056-412240, 9855063414,9845151179 info@chitwanhumepipe.com.np
&nbsp&nbsp&nbsp&nbsp ISO 9001:2008 Certified Company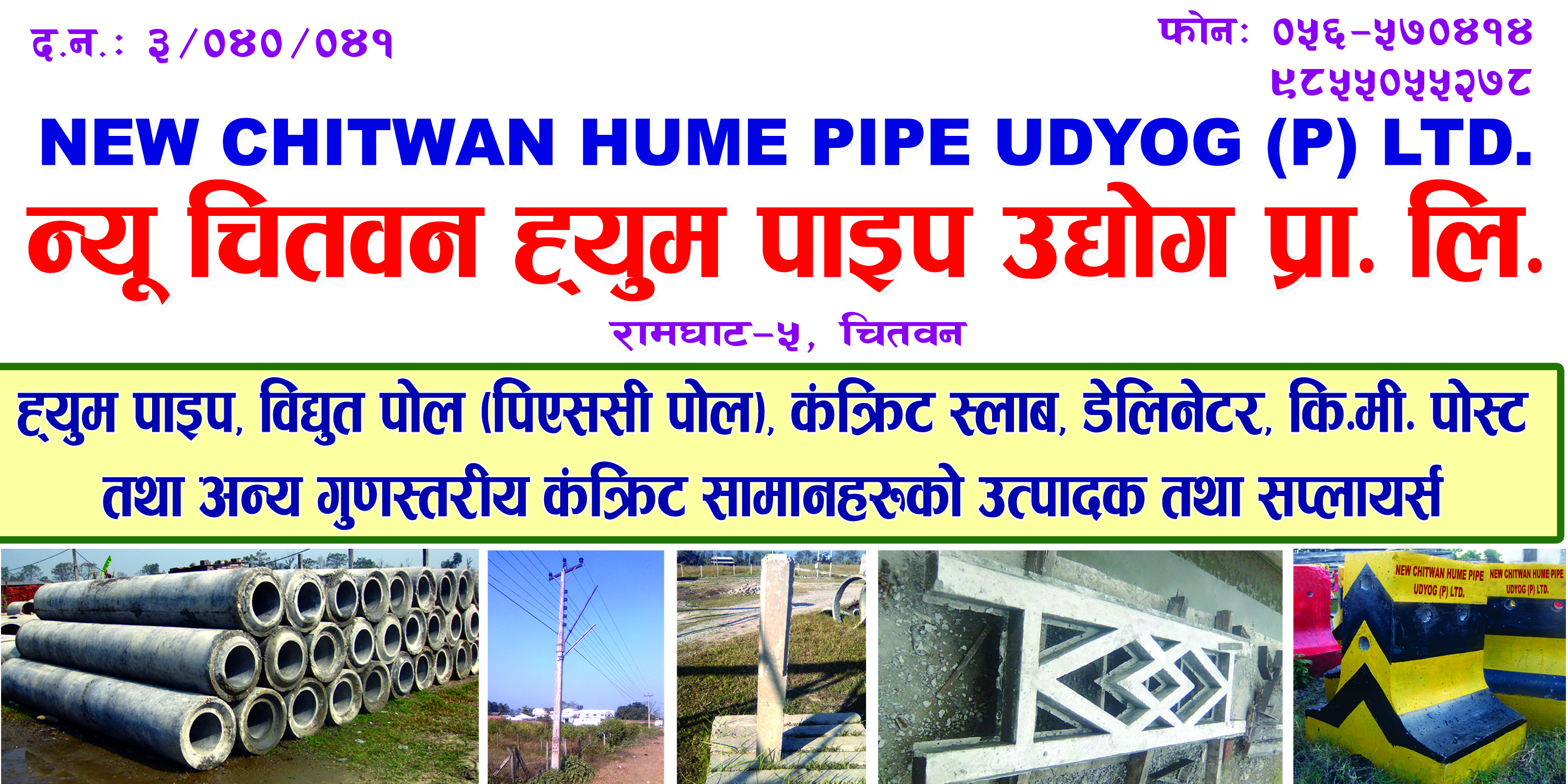 About Us
New Chitwan Hume Pipe Udyog Pvt. Ltd. (NCHP) is one of the top most manufacturing company of Nepal established with an aim of undertaking manufacturing contracts of Public, Semipublic & Private sector etc.
Basically NCHP produces the various precast concrete components like RCC spun HUME Pipe PSC Poles, fencing post and different Road furniture etc.
This company is proud of serving its objectives most effectively from 1988. Even since its inception none of the works undertaken has ever gone to a failure or litigation. This is an esteemed sign that sustains company's goodwill especially in our country's context.
This company has own office building, staff quarter and laboratory within the factory area at Bharatpur-04, Chitwan.
This company is well supported with all the required resources. It is an organization with extensive managerial technical and administrative staff and equipped with necessary plant and equipment as well.
The company has employed about eighty regular full time employees in different capacities and maintained sufficient skilled manpower. Its organizational set up and work force are designed in such a way as to give efficient and quantity yield with co-ordination in management and operation.
The key personal guiding the organization have gathered sound experience in manufacturing field and are always capable of discharging their responsibility of all kinds NCHP have always concerned about the quality product.
To maintain its standard it has a well-equipped laboratory under the supervision of quality control and inspection division.
This company having its own pre-stressing technology which is experienced in PSC pole manufacturing work.
NCHP started is early days as a Private Limited firm that was founded by Mr. Bhanu Bhakta Sharma since then it has been serving its objectives by supplying its product in the different field of work such as electrification Cross Drainage work, Surface Drainage, Sewerage, irrigation, Hydropower, Water-supply, and Diversion work etc.
Need Help? Call Our Support Team 24X7 at 9845151179, 9845077694, 9845276961